Brush Your Teeth 360 Degree in Just 45 Seconds 
A fully automatic electric toothbrush lets you enjoy a new and effective cleaning way. Combined ultrasonic wave technology, it can remove more tooth stain, plaque, bacteria in a short time. Offering you with healthier and whitened teeth. 
Features
Unique U-shaped brush head, in line with the shape of the teeth bite, high-frequency sound wave vibration, can quickly and cleanly clean the surface and inside of the tooth at the same time 360°, eliminate 99.99% of bacteria inside the oral cavity, and provide dental health protection. 
Nano blue light whitening, low-temperature blue light irradiation teeth 45 minutes a time, sterilization, whitening, massage gums.
The perfect combination of brushing and whitening and forth, giving the tooth a 360-degree cleaning effect.
Food grade silicone brush head, not allergic, safer to use.
Wireless induction charging, 3 hours charging, 15 days available. 
Four modes(Soft cleaning mode/Strong cleaning mode/Massage gum mode/Whitening mode) .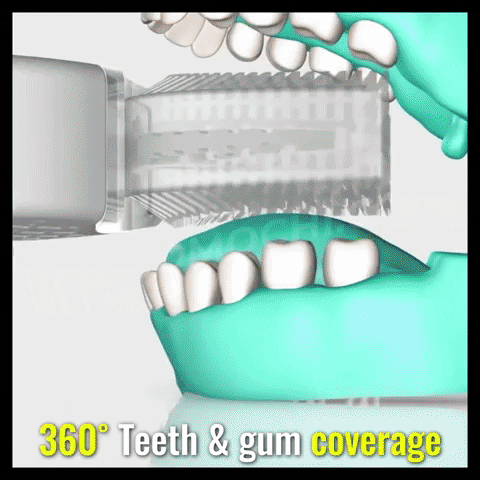 Note
The normal working temperature of the product is 0°C-50°C.
When the product is charged, please charge it at a normal temperature because of the characteristic of the product.
When the product is not used for a long time or is placed for a long time,it is suggested that it should be charged and discharged within three months.
The product is stored in dry and cool places as much as possible and avoid sunlight.
After brushing your teeth,use a wet cloth to clean up the water and stagnation of the fuselage, and try to avoid soaking in water.
The output power of the product is large, and it is forbidden to work for a long time. Generally, it is less than 10 minutes.
When charging, please take the brush head down and keep the body in a dry bath. 
Package Included
1*Electric toothbrush 
1*USB Cable
1*Charger base
1*Use Manual